Yes, it has seemed like a long winter, and as we dive back into another cold snap, it seems that winter is sticking around for a while longer. Well, how about making it a little more pleasurable? Take advantage of all this snow and the cold that keeps it from melting away. Get outside and enjoy the beautiful Maine landscape, much of which includes farmland.
As of 2012, the USDA calculated that there are 1.45 million acres of land in farms in Maine. Nearly 700,000 acres of open farmland in the state is owned by dairy farms. Much of that land is open to the farms' communities for hunting, snowmobiling, snowshoeing and other recreation (but always ask permission before recreating on someone else's property). A few dairy farms like Smiling Hill in Westbrook, Pineland Farms in New Gloucester and the Harris Farm in Dayton, have groomed cross-country ski trails and even equipment rentals.
The Harris family has offered skiing for 27 years, says Rachel Harris. "It was a way for the next generation, my husband Clint,  to take over the farming when he graduated from college, while my in-laws could still have seasonal on-farm income from skiing. It turned out to be a great way to utilize land during the off season while the fields and pastures were not being used and all the animals were in the barn for the winter."
Matt Sebasteanski, who is the outdoor recreation director at Pineland, says the reasoning is much the same at that farm. "Cross-country skiing is an excellent way to keep income coming in when the land is not in use for agricultural purposes. It also offers a great outdoor experience that we want all Mainers to take advantage of. Pineland Farms offers local people the opportunity to spend quality time on a farm where they may be buying some of their food."
Skiers have a similar experience at Harris Farm, which is diversified and sells vegetables, beef and maple syrup along with milk right on the farm. "It's pretty cool that the skiers at our farm are skiing on the same land that produced the food they are buying from our farm store and eating for dinner that same night," Rachel says. "Skiers are very health conscious and want to buy healthy, locally produced food. Most of them stock up on our milk and beef before they leave, and they become loyal customers."
"Skiing is the ultimate winter sport," she adds. "The entire family – from 3-year-olds to people in their 70's and even 80's – can ski or snowshoe." Rachel says the low-impact cardio sport appeals to many people as a way to get outdoors and exercise or train for competition or other sports. "We have people from every fitness level – from middle aged people who haven't ever skied or worked out before in their lives to ski racers who are training for big regional races. We even have a professional athlete skiing at our farm this year who is training to compete in the world triathlon championships."
Skiing allows people to really appreciate what others might consider bad weather – cold and snow. "Our customers love the snow and get excited when a huge storm comes," Rachel says. "Why stay inside and complain about the weather when you can get some fresh air and enjoy it?"
The Harris family enjoys skiing also, and Rachel's son is on the high school team. Since they have their own milk cows, the family can always rely on being able to refuel with the protein and carbohydrates of milk. "Chocolate milk has been proven to be one of the absolute best sport recovery drinks, and we sell more chocolate milk during ski season than any other time of year," Rachel says. "I bring cases of chocolate milk to my son's high school ski races – they all love it, and his team has some of the fastest skiers in the state. I like to think one of their secrets to success is all the Harris Farm chocolate milk!"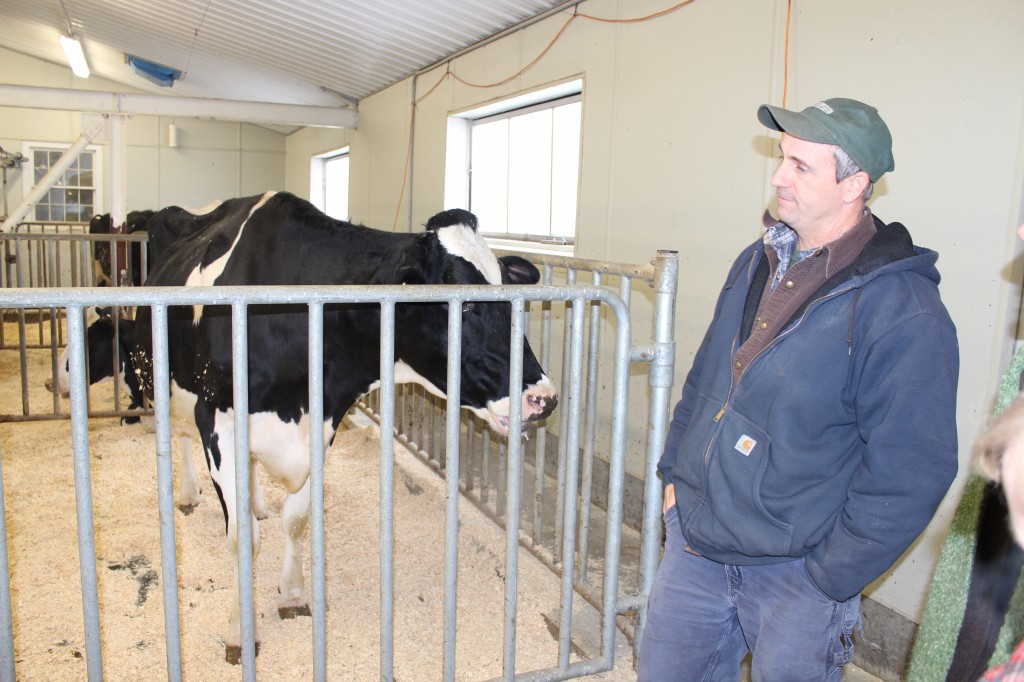 The following recipe is from Pineland Farms and has been very popular in their Market and Welcome Center.
Pineland Farms Quiche
This is a wonderful and simple recipe that can be split into 4 small individual serving size quiches for lighter meals/ snacks or be cooked as one large family size for a meal. Try Pineland Farms beef in this recipe, or we like to use our local produce whenever it is in season. Try our very own Gillespie Farm asparagus and green beans, which are two fun options!
Quiche Ingredients:
8 Pineland Farms Eggs
1  1/2 Cup Heavy Cream
1/2 Teaspoon each of Salt and Pepper
A pinch of Nutmeg
2 Cups of whatever meat or veggie you choose to use.
1  1/2 Cup Pineland Farms Cheese!!
1/2 Cup Onion diced up
Pre-make your favorite pie crust or pick up some of ours at the Pineland Farms Market.
Directions: Preheat oven to 350 degrees. Mix together all dry ingredients-place into prepared pie crust. Mix together all wet ingredients; pour over dry ingredients. Cook for 15-20 minutes or until golden brown.